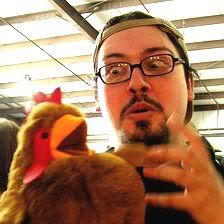 Chiptune artist and video game composer Jake 'VIRT' Kaufman will be an in-studio guest on the Video Game Music Show this Friday 12/10/10.  He will be doing an interview and play unreleased music live on-air.  Tune in Friday from 6 – 8pm!
From VIRT's web page…
I have made music and sound effects for video games ranging from Game Boy Color to Xbox 360, and for any film studios that really need to sound like they're from the 80s. A few years back, I achieved my lifelong dream of writing music for official Contra and TMNT games, so I had to come up with a NEW dream, and that is to buy a house for my wife Kristi, and a big back yard for Nugget the hilarious puggle.