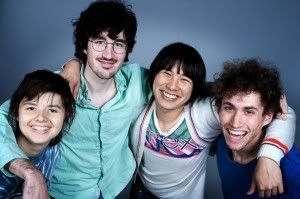 KSPC is excited to present Ponytail at the echo on Friday, May 15th!!!

Ponytail is a four-piece art rock band hailing from Baltimore, which the likes of similarly eccentric Dan Deacon and Ecstatic Sunshine call their home. Noisy battling guitars, Molly Siegel's wailing/chanting/ululating, and the band's overall rambunctious intensity will get you all riled up before bed… Their last album Icecream Spiritual has earned them comparisons to Deerhoof, OOIOO, and Boredoms. Ponytail on myspace.
Club Underground DJs and IDM star Cex will open.
8PM/all ages. The echo is located at 1822 W. Sunset Blvd. Los Angeles, CA 90026 in downtown Echo Park.
Come visit KSPC staff and DJs at our table during the show!!!!
Tune into KSPC all this week for on-air ticket giveaways!