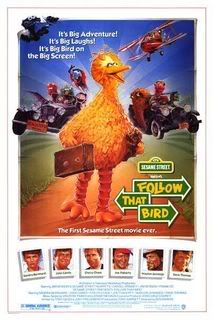 11/28 @ 4:15pm / Series: More Muppet Magic: Jim Henson's Legacy / Follow That Bird
Chock-full of fun celebrity cameos and adventure far beyond the confines of "the Street", Follow That Bird takes our beloved Sesame Street characters for a cinematic ride through America at large. Convinced by an adoption agency to move in with a bird family so he can grow up "with his own kind," Big Bird is relocated to the Dodo residence in suburban Oceanview, Illinois. When he runs away and falls in with a sleazy carnival sideshow, however, Cookie Monster, the Count, Oscar, and others must race across the country to rescue their friend and bring Big Bird back to his real family — the wonderfully diverse community of Sesame Street. SCTV regulars Dave Thomas and Joe Flaherty are a hoot as the bad guys, while Chevy Chase, John Candy, Sally Kellerman, Sandra Bernhardt (overseeing one doozy of a filmic food fight) and Walyon Jennings all lend their funny to make Follow That Bird a fantastic time for kids and adults alike! DJ Dia (KSPC) will be here to spin tunes before and after the film!
Dir. Kew Kwapis, 1985, 35mm, 88 min.
Tickets – $10 / $6 children under 12 / Click here to purchase tickets!
Cinefamily / 611 N Fairfax Avenue / Los Angeles / 90036 / 323-655-2510 / cinefamily.org