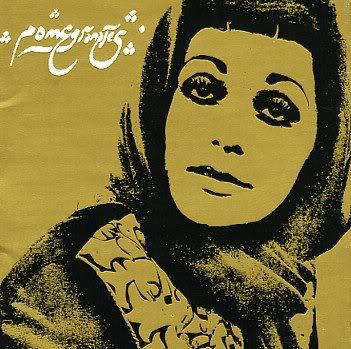 On "Pomegranates" Finders Keepers has assembled a fine group of Persian tunes from the so-called "Golden Age" of Persian pop music. After classical forms dominated Persian pop music in the '50s, the emergence of artists like Googoosh was an unprecedented revelation. "Pomegranates" documents the dazzling movement before pop music was banned in '79 after the Iranian Revolution, when many Persian pop stars fled to the US.
"Pomegranates" opens boldly with a funky track by Zia, featuring sharp horns and James Brown-esque grunts. The following tracks pull from a wide range of influences, from spy films to raga, and 70s soul to Latin percussion. Don't miss songs by Googoosh, the most famous Persian pop star of her era. Folk songs like the fifth track "Gol-e Yakh" provide a wistful respite from the aggressive pop that comprises most of the compilation. The compilation's diversity never allows a predictable moment.
This album is just like the fruit it's named after: vibrant, juicy, and sharply sweet.
-DJ Space Cadet