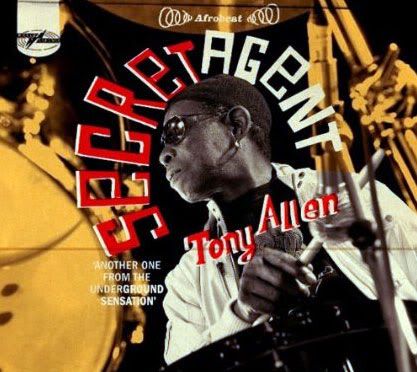 Need a fresh fix of Afro-beat, but not ready to fly to New York to see Broadway musical Fela!? (Yes, really: youtube.) Listen to (KSPC to listen to) Tony Allen's new album Secret Agent on Nonesuch records.
Allen is Fela's lesser-known partner in the creation of afrobeat (with Fela as the other), and famously called "perhaps the greatest drummer who has ever lived" by Brian Eno. Despite his incredible influence, Allen hasn't let self-importance interrupt his flow of creativity. On Secret Agent he plays the role of musical director rather than solo artist, showcasing fantastic musicians (especially AYO) from his hometown, Lagos, Nigeria, and working discreetly in the background. He's not a "purist" either, fusing afro-beat with electronic soundz and R&B.
The tracks with political and social commentary are particularly inspiring, especially final song "Elewon Po," a surprisingly cheery protest song repeating: "too many prisoners." Despite reaching his 70s, Secret Agent shows that not just wisdom, but also ambition and creativity expand and grow with age.
-DJ Space Cadet