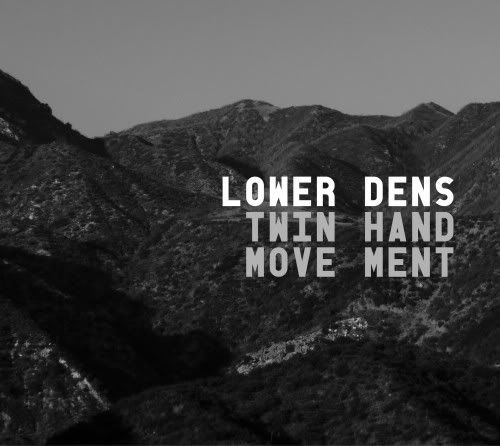 Lower Dens – Twin Hand Movements
Somehow freak folk singer-songwriter Jana Hunter has put out an album with her new band on Gnomonsong, Andy Cabic (of Vetiver) and Devendra Banhart's new label, and come up with something pretty unexpected: drone pop that combines shoegaze and post-punk. The Baltimore band also eschews the Technicolor, sugar rushed bliss of Wham City contemporaries like Dan Deacon or Ponytail in favor of a more subtle, dreamy kind of pleasure. The nocturnal music of Lower Dens sounds most like Yo La Tengo's And Then Everything Turns Itself Inside Out or a Joy Division wrapped in a warm blanket.
Jana Hunter's almost whispered vocals nicely accompany the nocturnal atmosphere of Twin Hand Movements. The album's strength is in its subtlety – every track builds slowly but never reaches an epic guitar solo or repetitive chorus, and neither do they become a twenty minute post-rock marathon. Despite the music's slow building, the band wraps most tracks up in just three minutes. Lower Dens' understated pop leaves the listener just unsatiated enough to listen again.
So when driving on a warm, California summer night, I suggest grooving to the layered guitars of "Tea Lights," or the tender churn of "I Get Nervous."